Remember, it's only a game. 
That's what they told Scarlett Dragna when she first entered the magical realm of Caraval. It will look real, but it's not.
But the colors are so vivid. The conflict is so deep. The castle's full of secrets and the characters aren't just actors.
Oh, and Julian? The boy she maybe… possibly… might be attracted to?
He feels pretty real.
So does the crimson blood pouring out of his cut.
Remember, it's only a game.
But is it?
the premise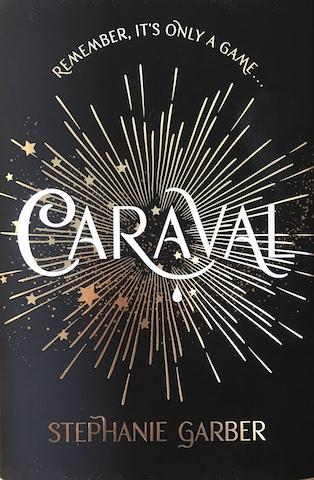 Caraval is Stephanie Garber's debut novel and the first in her Caraval trilogy. In it, Scarlett and Donatella Dragna have longed all their lives to visit the mysterious, mythical game of Caraval, where competitors have five days to solve a mystery and the winner takes home a grand prize.
Their controlling, abusive father has kept them trapped on their home island all their lives, so when Caraval's master Legend sends them tickets to that year's competition, they both want to go. But Scarlett, afraid of their father's wrath and hoping to find security for her and her sister in her impending arranged marriage, decides to stay home. Tella's not sure that a man they've never met except by letter will care for them. So she goes to Caraval.
And so does Scarlett.
what I liked
Caraval itself. Although occasionally I was a little confused as to how everything was laid out (the map might've helped, but I didn't realize it existed), I really loved the description and location.
Julian… kind of. I'm not sure what I think of his character, and there were definitely swings back and forth when I hated him, then loved him, then hated him again. Because I'm trying to keep this spoiler-free, I'll say no more. But he was… fun to read about.
Dante. His character was very well written.
Legend. The air of mystique and the fact that he could be anyone really intrigued me.
The descriptions. While occasionally they got a bit flowery ("it tasted like the moment before night gives birth to morning;" "shades of the rich ruby love she'd felt during the game mixed with hues of deep-indigo hurt"), the descriptions were mostly great to read. Even if they were kind of exaggerated and showy, I always knew exactly how things looked.
The game/mystery aspect. I really enjoyed following along with the characters as they tried to solve the mystery (which would have been really unexpected, except that the book jacket spoils it…). It wasn't always exactly clear which clue Scarlett had found and how it fit into the game, but mostly, it was gripping and enjoyable.
The magic system. I really liked several elements of the magic. It was surprising, different, and a bit creepy… in a good way. Even though it wasn't explained very well or in depth, it didn't bother me that much and I really enjoyed some of the descriptions.
Aiko. Another character you never fully figure out, Aiko was realistic, interesting, and different.
The cover. Okay, I know this is not part of the story, but it is really lovely.
what I didn't like
(Warning: Caraval has some fairly mature content, and I will be mentioning some of it.)
Scarlett and Tella and their relationship. Scarlett, while a sort-of interesting POV character, ended up falling kind of flat. I didn't believe she really cared about Tella (the author kept saying it every other page, but Scarlett's actions didn't line up with what I was being told about her), and I couldn't empathize with her when she finally decided to fall in love (predictably, but not to the person I think she should've… honestly, I don't think she needed to fall in love at all). Tella, on the other hand, was drastically self-reliant, refused to return Scarlett's love, and cared about boys WAY too much. Even when they were in the same scene, both professing their sisterly love for each other, I simply didn't believe that they actually cared.
Governor Dragna. Scarlett and Tella's dad is a psychopath who honestly doesn't seem to care about them except for their marriageability. He punishes them (physically) when they disobey him, drowned someone who tried to help them escape his clutches, and has no qualms about doing anything to get his way. He is not developed beyond that, and with no reasonable explanation for his behavior, I didn't enjoy him as a character – even as an antagonist.
All the romance and physical attraction. Near the beginning of the story, Scarlett walked in on Tella and a boy she'd never met before, embracing each other (though later the boy swears he never kissed Tella). Whenever Scarlett wears a pretty outfit, notices a handsome man, or talks to a boy, her mind immediately jumps to what he's thinking of her, or how it might feel to kiss him. Later, when she does choose to kiss a man, it's described vividly (although it's mostly random imagery like "tasted like wood and rain" and "colors as soft as velvet and as sharp as sparks that turned into stars"). She and he enjoy touching each other's backs and arms. A girl introduces a man as her fiance who's spent every night with her since the start of Caraval. And [HIGHLIGHT *mature content* SPOILER]

Scarlett's dad tries to force her to sleep with her fiance before their wedding, though she escapes

[END SPOILER].  Plus there was a mostly pointless love triangle (quadrangle, even) and both girls were attracted to multiple men over the course of the story. It made for an interesting romance, but I thought I signed up to read fantasy.
The creepiness. I was actually pretty neutral about this, but at times Caraval bordered on horror as various terrible things happened and Scarlett was told that it was "all a game." It kept me reading, but it might bother some people, and it wasn't my favorite part.
The underage drinking. Tella got drunk once, and there was mention of her drinking at other times as well.
The ending. I was really intrigued by the concept of the game being real (similarly to the idea for Ender's Game), but the way it turned out was not how I expected, nor what I wanted. In addition, most of the sacrifices and losses throughout the story didn't have their desired affect, nor did they turn out to be worthwhile, meaningful, or – sometimes – permanent. This really bothered me. Also, [HIGHLIGHT SPOILER]

in the end, Caraval was just a game, and everyone who died came back to life when it was over

[END SPOILER]. Although I didn't care for all of the writing and found some characters to be shallow or meaninglessly cruel, I was willing to give the author another chance (after all, this is her debut) and try the sequel. Until I reached the end, at which point I decided that no matter what happened next, nothing would make me enjoy the story anymore.
final verdict
Caraval was an enjoyable, fast read with some lush description and clever magic. However, it was filled with pointless romance, flat characters, terrible role models, and unrealistic relationships. The ending was unexpected, but not in a good way, and the sacrifices that characters made didn't have any point.
I give Caraval 5/10 stars. I wouldn't recommend reading it unless you really like romance, have no good books to read, or want to form your own opinions (which I understand!).
If you like the idea of Caraval, but don't want to read it (or if you have read it, and want more), here are my recommendations:
The Lunar Chronicles by Marissa Meyer (science fantasy romance fairy tale retellings)
Ender's Game by Orson Scott Card (similar concept: is it really a game, or not?)
Children of Blood and Bone by Tomi Adeyemi (another contemporary fantasy)
Have you read Caraval? What did you think of it? Should I give it another chance? What other books would you recommend for those who do (or don't) like Caraval? Comment below and let me know!